COLT 4 (NO WARRANTY)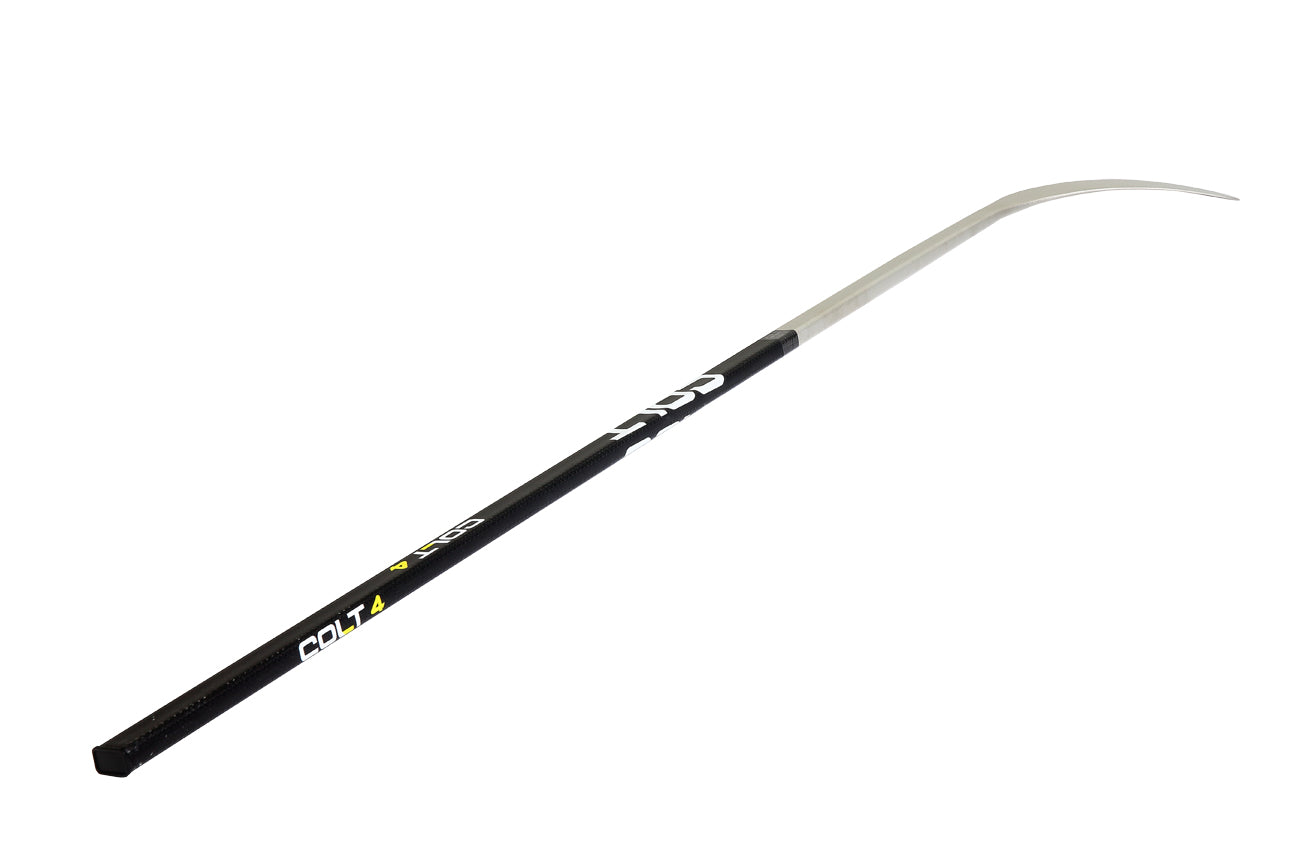 FEATHERWEIGHT CLASS
Weight reduced by over 15% without compromising strength or material integrity.
trusted durability
Like its predecessors, the COLT 3 can withstand 3x more impact force than current elite composite hockey sticks.

NEW ERA PERFORMANCE

COLT Soft-Touch Finish, a modern kick-point, and perfect balance for superior feel, release quickness and shot power.
intermediate sticks
For our COLT 3 lineup, we've opted to maintain a 65 flex offering at a senior shaft length (62"). With our modern kick-point design, 65 flex COLT 3s can be 'cut down' to size, as you would any elite composite hockey stick, without flex being altered, making it a perfect option for intermediate hockey players.
more curve patterns to come
Curve pattern availability will expand over the next few weeks based solely on demand. For now, we've opted to include only the most popular patterns. Email us at info@colthockey.com and let us know which curve and flex combination you are looking forward to!
expected DELIVERY:
COLT Hockey ships world-wide via FEDEX; you can also pick up your items directly from our factory. Orders are typically shipped within 1-2 business days from receipt of order. However, due to high demand, a 2 week wait upon ordering may apply on certain patterns (most notably the C09 pattern).
WARRANTY:
We believe the best warranty is one that you will never use, that is why COLT produces top-end hockey sticks that can withstand the challenges of today's game.
We designed the COLT with a delicate balance between durability, performance, and player safety and while the COLT 3 is stronger than other composites it can and will break when overloaded. Still, we proudly stand behind the COLT 3 with an industry leading 60 day warranty.
Please read our full Warranty Policy before purchasing.
THE BATTLE STARTS WITH THE

|

4

   
The official successor to the COLT 3, the all new COLT 4 enters the arena as the most durable, high performing hockey stick ever developed. The careful balance struck between elite level feel and jaw-dropping longevity is on full display, highlighting a top-to-bottom re imagining of what it means to be the hockey stick brand of the future.
The COLT 4 features an elite performing, specially designed, one-piece composite hockey stick where the blade, hosel, and bottom 24" inches of the shaft (hack zone) are fully encapsulated with our patented Nanovate™ NiCo technology.  
The COLT 4 combines the latest in composite hockey stick design with aerospace engineered nanomaterial to give you the the most high performing, durable hockey stick on the market today.
ADDITIONAL SPECIFICATIONS
Bottom 24" of the shaft maintains consistent flex profile when coated with NiCo
Depending on how you hold the stick, kick points will vary along the shaft - allowing for heavy slap shots as well as quick release shots.
Strategically re-engineered composite construction serves to optimize the flex and response rate. The stiffness distribution of the COLT 4 generates a transferable flex profile that caters to a variety of different shooting techniques. 
Great!
Added COLT 4 (NO WARRANTY) to your cart.
x