COLT Box Lacrosse Shaft (NO WARRANTY)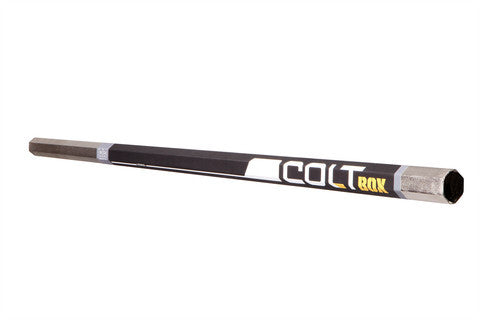 PERFORMANCE:
The COLT Box line features a carbon composite lacrosse shaft reinforced with Nanovate™ technology. By applying the Nanovate™ to a lightweight composite shaft we have effectively built the product's weight up by adding a significant amount of the incredibly tough coating. Ultimately, this has led to the Box being the toughest and most impact resistant lacrosse shaft in its weight class.
DURABILITY:
Through a thick application of Nanovate™ NiCo the strength of the COLT Box has increased tremendously while its weight has been developed with defensive players in mind.Tested by dropping 5.5 lbs from two feet high, followed by a bend/strain analysis to determine the point in which the shaft breaks. The results show that the COLT Box significantly outperforms other heavy handles in terms of strength and durability.
DELIVERY
COLT ships world-wide via FEDEX; you can also pick up your items directly from our factory. Orders are typically shipped within 1-2 business days from receipt of order.
WARRANTY
At COLT we believe that the best warranty is one that you will never use! That is why we produce top-end products that can withstand the challenges of today's toughest sports. In design we needed to consider safety precautions, therefore our products while more durable than composites or aluminum, can and will break when overloaded. Still, we undoubtedly build more durable products and are proud to stand behind them with the best warranties in the industry.
COLT LACROSSE – 1 YEAR on all lacrosse shafts. Our warranty periods being after delivery and covers product breakages that occur as a result of manufacturing defects (subject to return and assessment). We recommend all customers Read our full Warranty Policy before purchasing.
BUILT FOR DEFENSEMAN
The COLT Box handle is perfect for defensive Box lacrosse players that require extra durability but still want a highly maneuverable shaft. This lacrosse shaft offers extreme strength and toughness. The shaft is made by applying a thin layer of our high toughness Nanovate™ NiCo metal to a specially designed composite handle. 
Great!
Added COLT Box Lacrosse Shaft (NO WARRANTY) to your cart.
x